I know that I have a dress obsession. Half of my closet consists of dresses. This summer I wore a dress (or skirt) nearly every day. Dresses have always been more comfortable than pants to me. Plus I like feeling more ladylike when I wear dresses.
When I was little that is all I would ever want to wear. When my mom would take me shopping and I would try on a dress it had to pass the twirl test. This test consisted of me twirling around the dressing room with my arms outstretched and catching my glimpse in the mirror to see if my dress would twirl out.
probably trying to twirl...
On my 4th birthday I had a pool party at my grandparents. I can remember my grandmother asking me what I wanted to wear to get ready for the party and I insisted on wearing my fanciest (and really good twirling) dress. Everyone else was in shorts and swimsuits, I had on my party dress by the pool.
And if I wasn't wearing a dress, I then had to wear really fancy shoes. Patent leather was my favorite.
Wow, no wonder I turned out this way.
So today when I got back home from Raleigh and shopping with my friends Amy and Heather, I decided to count up my dresses when I was hanging the new one up. 34 were hanging up and I think I counted up 5 sweater dresses folded up in my bedroom. But in my defense I have worn every single one of those dresses in the past year!!! Well, with the exception of the bridesmaid dress from Amy's wedding. I've thought about giving up pants all together. Except that I really like when we have jean Fridays at work. And sometimes pants are easier but dresses are much more fun.
Oh, and my new dress. We were shopping/looking for holiday dresses. I knew that I already had a few options in my closet but then we went in Anthopologie and it was all over. I'd seen this
Tracy Reese dress
online but it is so much more lovely in person. And it was on sale. I halfway just tried it on for fun but then when all the girls working in the dress room said that no one else had been able to pull it off I knew that it was meant to be. I feel like I need to be attending the Draper's holiday party wearing it (Mad Men reference). Amy and Heather insisted on it too. Heather said that if I ever felt like I needed an occasion to wear it just to call them both up and we'd get dressed up to go out. Such good friends!!!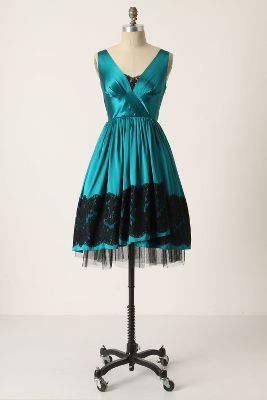 Oh, and it was on a runway?!?!?!? Not sure if I'll be pairing it with the knee highs though.