Every Halloween I hypothetically think of what I would want to dress up as although I have not dressed up since college and have no reason to dress up for anything now. As a kid I had the best costumes. There were a few Disney princess looks (long before Disney princesses were all the rage) with the Little Mermaid and Jasmine. One year I was a bride and continued to wear my faux satin lacy skirt with every top I owned long into the summer. Nearly every photo from that year includes this look. Also, a lot of my dance costumes got a lot of wear as Halloween looks as well. Oh, and there was the year my mom and I got creative and I was a bag of jelly beans- clear garbage bag, colorful balloons, one long night of getting in and out of the car in a huge costume!
This Halloween I'll probably be handing out candy to the neighborhood (and non-neighborhood kids that come through because I live on the street with the biggest houses in town) kids. But it would be fun to dress up and if I did this is where I'd get my inspiration from:
First up: Little Edie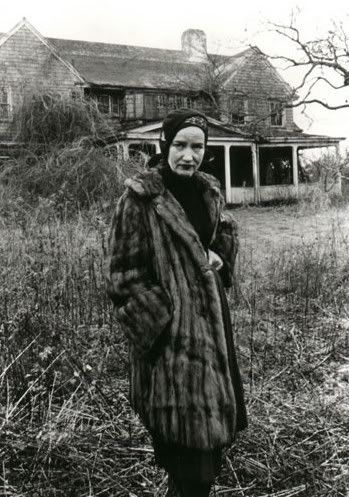 Pretty simple, although over the top look.
Need: scarf secured with a large broach, skirt/cape...oh hell, let Edie tell you herself:
I'll try to come up with some more looks in the near future.